The we + design studio has set itself the task of creating a better dialogue between humans and nature by revealing the beauty of the entire life cycle of natural materials. Your unique perspective, alternative approaches and technologies allow you to start the conversation.
It is becoming increasingly clear that we are no longer making optimal use of buildings. Commercial buildings in Japan have an average lifespan of only five to ten years: construction, demolition, disposal. Reducing waste and recycling materials has become an important issue.
we + 's shortcut Project, part of Semba Ethical Design Thinking's activities, focuses on discarded construction materials from the demolition of commercial buildings as well as mock-up materials from the planning and design phase. Although functional, these materials are not considered to be reusable. Link examines the possibilities besides material recycling and thermal recycling, such as the dismantling and reconstruction of building materials that have lost their original functionality.
we + shreds construction waste such as wood, metal and bricks into small pieces before they solidify with different grain sizes. The larger grains are used as patterning materials and the fine grains are converted into pigments. The oxidation of the metal gives extra depth to the expression of the manufactured material. The materials are then formed into a modular system from which everything from furniture to wall surfaces is possible. we + plans to continue these sustainable studies to find a way to integrate mass produced and used materials into a recycling system.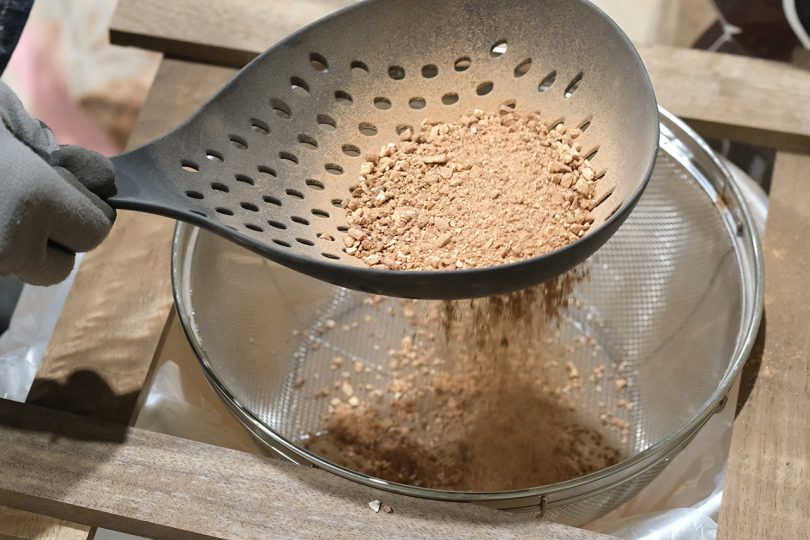 To learn more about Link, visit weplus.jp.