As long-time fans of Chef Francis Mallmann, we took the opportunity to interview him for TASTE. Sure, as food designers we are fascinated by his theatrical cooking methods, his expansive inventions that drip into spectacles and at the same time are rooted in culinary history. But if we dig a little deeper, it becomes clear that the chef has more to offer us. His insight into how to listen to the planet, accept mistakes, stop smelling the basmati rice … We hope to share the poetry of Francis Mallmann's original and honest approach to food and drink. He is a cook full of passion, teaching and willingness to eat life.
What makes a culinary experience unforgettable?
What makes a good experience memorable is the spirit, art and inspiration of sharing. That's the only reason to sit down and eat. It's not about the food or the wine (if they're both good, by the way, much better). But the beauty of eating with friends, lovers, family, children is to be shared. Is to sit and think and be funny and say what you have to say in an honorable and thoughtful way. As a mirror of your heart and thoughts, this is the most memorable thing about food and wine.
What inspires you outside of the culinary world?
What inspires me outside of the culinary world are words and languages ​​because they improve in your heart and mind as you age. You take them everywhere and they don't take up any space. They are very deep and inspire reflection. That is why words and languages ​​are very important to me. Like silence, seclusion and very special – the silence of the fire.
Are you still making mistakes?
Fortunately, I make mistakes. We all do that. And that is the way to grow, improve your skills, your being and your life … Without mistakes we are nothing. It's the best way to learn. When you're in the ground and your face is marked in the mud and blood of your fall, look up and like Kipling said, "Take your worn out tools and start over." That could be a pancake, a steak, an overburned tomato , Love and work are related. What is a life without mistakes? It's a holy pit.
Has the past year given you any new ideas?
Our industry is wildly and severely hit by this crisis, this health crisis. As we all know and feel, we are suffering from the closure of restaurants and hotels around the world, and I have a feeling that in a way, it is not people who are talking, but the planet is telling us stop so we can consider how we work and live. I think this is a great opportunity for the planet and for all of us. I think of Chernobyl, I saw some photos the other day, a city that was so badly injured by us, left alone, abandoned and now 30 years old. It was eaten by trees and plants today and shows you the strength of the wilderness. The trees invaded the buildings and the roots moved the walls and destroyed them. Probably in a hundred years, you will be walking among trees on the rubble of buildings. That is how strongly this planet speaks to us today about what is happening. So we need to look into the horizon and think about how each of us can be better to change the way you lived in the past.
If the past year has given me new ideas, I look back on my eighteen-year-old self when I started my training in France with incredible chefs of the time – eight three-star chefs I worked with. They were very strict and generous with me. They gave me like a handful of seeds that I carried in my pocket – I don't know why, but they carry a message of hope. It's a hard time now – I am an adult and their age when they taught me. It is time for us to teach the youth about hope, hard work, and conviction, and what we want to do with our lives.
What's your favorite ingredient?
My favorite ingredient is white rice, in fact basmati rice. It is the purest, tastiest and most perfumed product that I know. In those days when I was eighteen a friend from Iran who lived in Paris in the late 70s took me to Iranian markets and made me kneel on the floor in front of the rice sacks and put my head in my pocket to understand what truest rice was. Then we chose one of them and went home and cooked it like a piece of butter and a piece of linen on top of the casserole until it was crispy. Since then, my favorite food has been white rice with red cabbage salad with a very special dressing that I make with many things. So I could eat this every lunch and dinner and be very happy.
Do you have a favorite kitchen tool?
My favorite tool in the kitchen these days is my block of wood with Puiforcat knives. They are the most beautiful tools I have ever seen to cook with their wooden metal handles and their keen luck. I love the bread knife, with which I peel my oranges, grapefruits and lemons, cut or cook bread, and the unbelievable "coulibiac" full of caviar and rice, eggs, mushrooms and a wonderful brioche.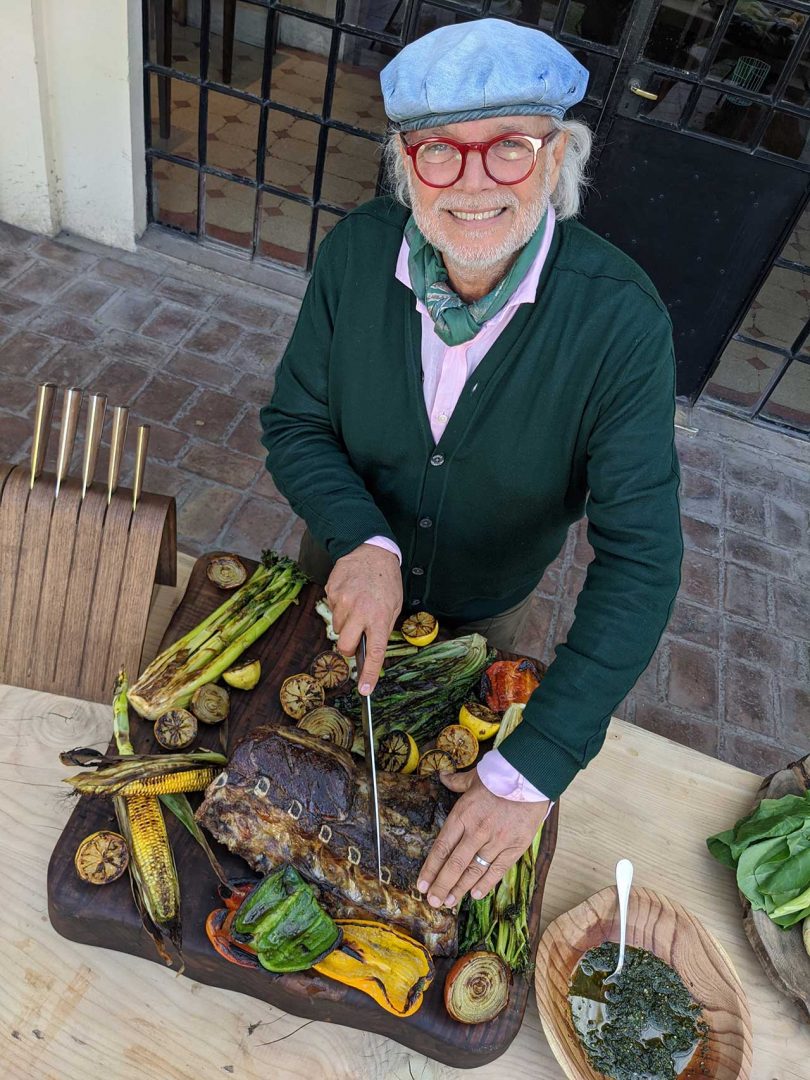 What is your favorite food?
Surely I like to eat with my hands best – after sixty you lose shame and you can be under a tree or in a palace and suddenly with your fingertips take a delicious meal that you eat and do it graciously. And when you are old enough you will always look like a prince or king because it comes from your heart, the desire to hold your mouth full of delicious food that you are about to eat.
What would we find on your dining table at home?
There are four things on my table at home that need to be there for dinner, lunch, and breakfast, and they're late harvest cold pressed olive oil, a great pepper mill like the one I made in puiforcat wood, sea salt and the like have the very best red wine vinegar from Cos d'Estournel France or a matured vinegar from Spain.