This month is the Swissotel Kursaal Switzerland opened its doors in Bern to welcome the first guests. As a flawlessly designed hotel project by the award-winning Austrian interior and product designer Nina Mair, the Kursaal offers contemporary comfort, stemming from its Alpine heritage, for sustainable design, warm hospitality and closeness to nature.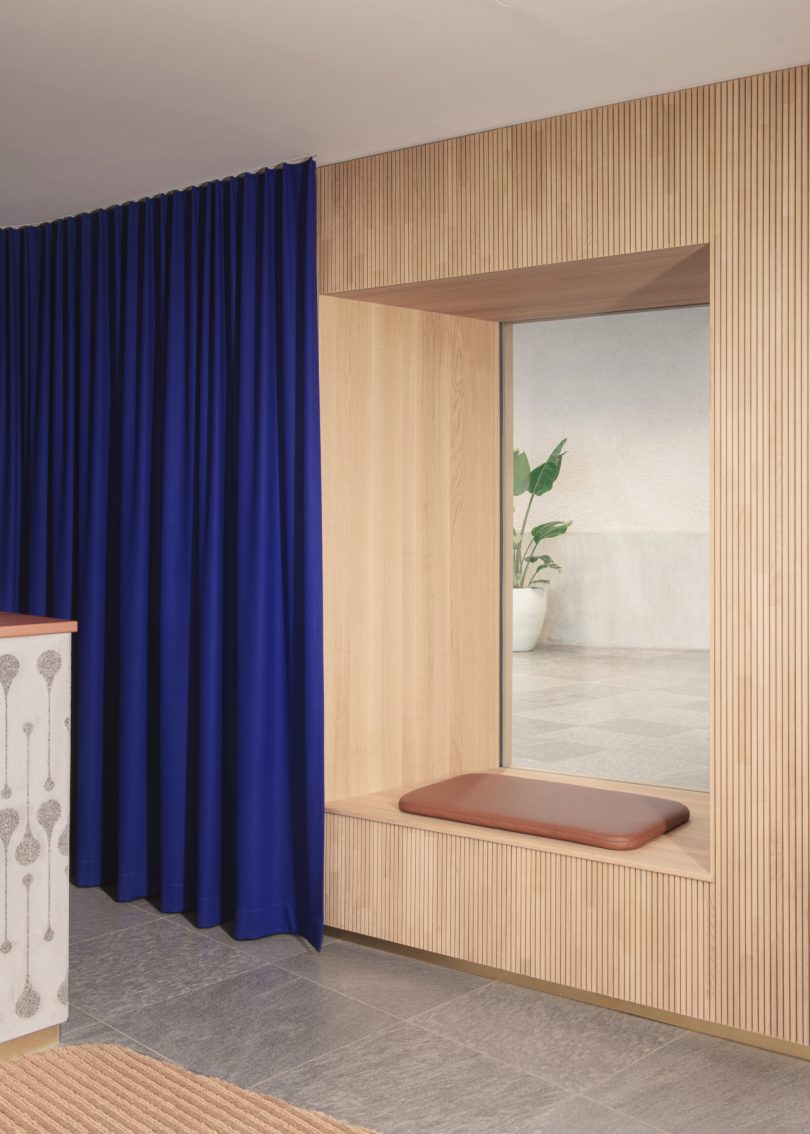 You feel at home in the interior of the Kursaal. Mair used a restrained palette of materials that helped create the calm ambience that is immediately noticeable upon entering. The curved lobby has a bespoke stone counter inspired by the wood motifs of the original building. Mair created a contemporary relief pattern with fretwork and finished off the worktop with leather for a soft feel. The furniture can be easily remodeled and the acoustics are retained by wall panels and niches.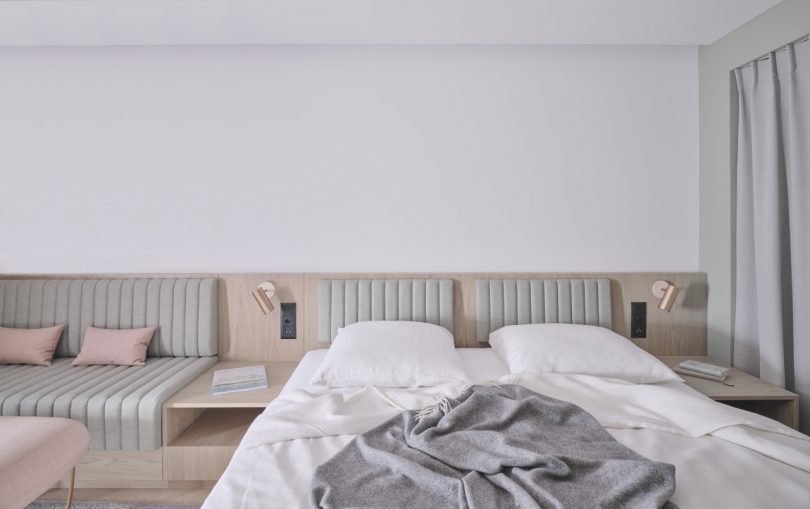 Local oaks and tiles form the cornerstone of the guest rooms, while a color palette of light wood, mint green, pale pink, and cool grays give it a modern aesthetic. The colors also distinguish two themes: cool green, which characterizes the larger Premier rooms, while the Classic rooms are kept in warm, cozy tones. Natural leather and wool details give texture and complete the range of materials.
Technological amenities have been implemented that contribute to a personal stay. Dimmable bedside lighting, individual bathtubs with rain showers, air purifiers, noise reduction and warm, adjustable lighting can all be set according to your own wishes. All furniture is custom-made, including the long stone sideboards, which also serve as storage space or desks, the headboards with two side tables, the boudoir chests of drawers made of oak and the benches. The furniture also helps create different zones for working, sleeping or lounging.
The wash and shower trays from Laufen were matched to the existing surfaces and ceramic tiles. Minimalist lights from Grohe illuminate the rooms.
What: Swissotel Kursaal Bern
Where: Kornhausstrasse 3, 3013 Bern, Switzerland
How much? Approximately $ 186 per night
Highlights: This 170-room hotel only opened its doors in June 2021, so guests can be pleased that they are among the first to experience the modern hotel.
Draw a draft: The range of materials and colors is calm, calming and calming – everything that a stay away from home should be. Pastel tones, natural wood and cozy textiles create a soft, contemporary ambience that reflects the alpine location.
Book it: Swissotel Kursaal Bern