Rudabeh Pakravan is an architect, educator and founding partner of Sidell Pakravan Architects. She is interested in how architecture shapes everyday experiences, how people and buildings influence each other and how architecture is a physical exploration of space and a practice of social engagement. With bold and straight lines, Rudabeh's office strives to create spaces that create opportunities for interaction, reflection and enjoyment, both in private and public areas. Together with her business partner and design team, she researches critical architectural ideas on many scales, from urban parklets and 300-square-foot residential units in her hometown of Berkeley to extensive office renovations and apartment buildings in the Bay Area and California. In addition to Rudabeh's practice, she teaches architecture at the University of California, Berkeley. She is also the recipient of the Design Vanguard 2021 from the honorable Architectural Record.
Today Rudabeh is there for Friday Five!
1. White paper models
We do a lot of white paper mockups in our office. We start by taking an abstract concept and creating it quickly. We then discover unique and often unexpected spatial possibilities. As a design team, we discuss these ideas and then build more models to further explore the potential. The ideas are loose at first, but the models are always made with precision and intent; they are intended to evoke actual architectural relationships.
When I was in architecture school, we were obsessed with models that were intricately detailed and often decorated with gouache and paint. I discovered the power of a simple paper model in 1998 at the exhibition Zaha Hadid: Constructed Landscapes at SFMOMA. It was an incredible exhibition. The walls were covered with their large paintings and paired with these models made of white paper, which described the clarity of their projects with just a few cuts. It was incredibly inspiring to see this beautiful yet amazingly clear work.
2. Urban density
I love exploring cities and getting to know a culture through the experience. I learned how the structure of apartments has a major impact on a city. It is not surprising that one of my favorite places, Paris, is particularly shaped by the shape and character of its apartments. The Haussman apartment blocks create a strong roadside thanks to their constant height and continuous facades. This architecture enables an incredibly dense and efficient city. When people often disparagingly speak of urban density, I always refer to the example of Paris. Paris is one of the densest cities in Europe – twice as close as London and much easier to walk to. I think knowing this helps people rephrase their ideas about what density can look and feel like. The beauty of Paris comes from the relationship between the buildings and the street. The balconies and large windows create a permeability that enables a strong visual connection between the people in the apartments and the passers-by.
3. Sophie Taeuber
As architects, we are drawn to geometric abstraction in art. We look at a lot of artists in the office, from Agnes Martin and Bridget Riley to more contemporary artists like Joy Walker, Amanda Williams and Ramon Ramirez. But we often return to the work of Sophie Taeuber, a Swiss artist of the early 20th century. Married to a prominent Dadaist, she grew tired of the irony and self-referentiality of the movement. Instead, she sought meaning by making collages and sculptures out of colored squares, circles, and lines. Her beautiful work with lines and proportions as well as her experiments with the interplay of geometry and color arouse our interest in bold shapes and graphic patterns. The first comprehensive exhibition of her work will be on view in the Museum of Modern Art later this year.
4. Tehran
Revolution, differences in prosperity, astronomical growth and a steep topography make Tehran a complex place. Called the "Paradox City" by journalist Asef Bayat, it is home to a very young population who grapple with the strict laws by finding new ways to hide in the city's dizzying urban fabric. An informal attitude towards development over the past thirty years has given the streets an arbitrary logic and unusual geometries that can create clear micro-neighborhoods with a very strong local identity. It's an amazing city. I look forward to a time when more people can visit and get to know them.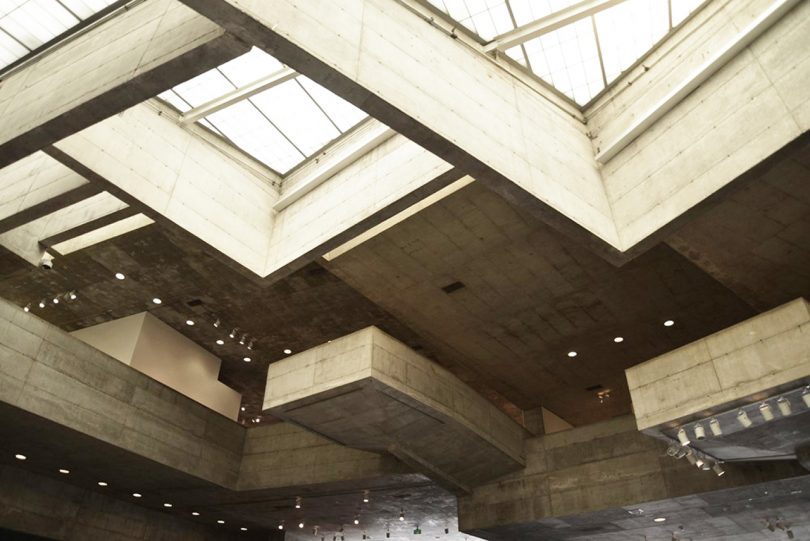 5. Berkeley brutalism
One of the best buildings I've ever seen is right across from the UC Berkeley architectural building. Originally built as a campus art museum, it was designed in 1967 by an unsung architect named Mario Ciampi who defeated a young Peter Eisenman in a university-sponsored competition. The really bold project is designed as a series of concrete volumes spiraling upwards. The interior features sixty foot cantilevers and dramatic single pane skylights. The building suffered severe earthquake damage after the Loma Prieta earthquake and stood empty for many years. Recently, a research lab called the BioIngenuity Hub began renovations and will begin "highly hazardous experiments" inside. I love the idea that the building is starting a new life as a science laboratory. It defies the myth that form must always follow function.
Works by Rudabeh Pakravan: