We celebrated the 15th anniversary of Design Milk with you this summer! It was really worth going back in time and revisiting some of our best adventures and highlights, but the fun is far from over. Ready for the news? We have created an exciting limited edition product collection in collaboration with some of our favorite manufacturers !!! First up is the capsule Design milk stationery collection with bold black and white patterns inspired by the sleek lines and graphic elements we often share on the website. The contrasting opposites have always been the core colors of the Design Milk brand – clean and minimal, modern and yet timeless. Let's have a look…
The collection
Design Milk's stationery collection includes two blank notebooks with our circle and line patterns, a Concept Planner in Gradient Dot, a bookmark made of silver-plated brass and a set of four slim ballpoint pens that write as smoothly as they look. Pick a few pieces or go all out with one of our bundles. All products are custom made by Poketo, one of the most popular brands in our community.
We started developing this sample collection over a year ago, exploring everything from Art Deco to abstractism to encourage creativity. It was a really interesting process to find out what our brand is beyond logo and words.
– Kelly Beall, Senior Editor and Art Director of Design Milk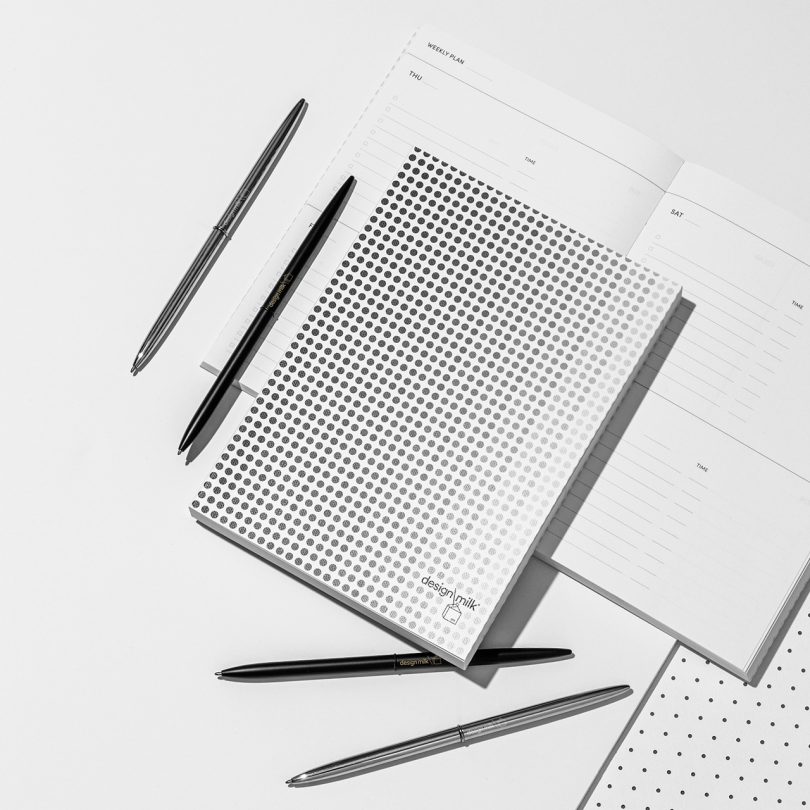 Concept planner
The bestselling concept planner in our Gradient Dot pattern hopes to guide you towards goal-oriented and idea-driven planning. At the beginning of each year, month and week with an open date, there is space for your goals and ideas as well as plenty of space for notes and to-do lists. The planner's Smyth Sewn binding lies flat when open and a hard-wearing, fabric-like cover lasts 365 days and longer. The pages are made of environmentally friendly, tree-free paper.
Tree-free notebooks
Our two patterned notebooks are primed and ready to collect your wildest ideas and wildest ideas! Its hard-wearing, fabric-like covers feature circles and lines, while the empty, tree-free pages inside offer a spacious canvas for your notes and sketches. These also feature the sturdy, lay-flat Smyth Sewn binding that you are sure to love.
Slim pens
Our slim pens are long and slim with a weighty feel that fits comfortably in the hand. Two silver and two black pens with the Design Milk logo are included in the pack of four, so you can have one with you wherever you go.
Silver-plated brass bookmark
Do you need to mark your place in a notebook or planner? We have a bookmark for that! Designed in an elongated version of our iconic milk carton and embossed with our logo, it's perfect for securing your space in style.
>>> Shop the stationery collection from Design Milk here! <
For our final post in our 15-day giveaway program on Thursday, July 29th, follow us on Instagram and be one of FIVE lucky winners who will each receive a $ 115 Design Milk Stationery Set.