1993, Herve Descottes Co-founder of the lighting design company The International Observatory in New York City after eight years of design practice in Paris. As a principal, he personally creates the lighting concepts for all projects and accompanies them from development to completion. Hervé has received several awards from the lighting design and architecture scene. He has received awards from the International Association of Lighting Designers, the Illuminating Engineering Society, the American Institute of Architects, the American Society of Landscape Architects and D & ADAD, among others. In 2008, Hervé was appointed Knight of the Order for Art and Literature by the French Minister of Culture. And in 2020 he received the Interior Design's Best of Year Award for best lighting designer.
L'Observatoire International is an award-winning, leading global lighting design company that works with the world's most prestigious architects and design firms. Her client list is long and impressive and includes selected projects including the British Galleries in the Metropolitan Museum of Art, Hudson Yards Master Plan, Fondation Louis Vuitton in Paris, Alice Tully Hall and Juilliard School, the Walt Disney Concert Hall in Los Angeles, Columbus Circle and the Boom Boom Room in the Standard Hotel.
We're excited to share Hervé's Friday Five Picks with you today!
1. Omen
One place I love to go to for fabulous meals and great time with my friends is Omen in New York. Every time I go there I feel the love and serenity around me through the minimal and calm environment. Everything is fine like a beautiful house in Japan, carefully placed. The art on the wall is also perfectly selected.
2. My playlist
Playing with my personal music playlist – between classical, modern, Africa, Brazil and France. I love traveling the world through music. I always feel very inspired by music from West Africa and Mali and I love to hear people sing in Brazilian Portuguese. I love the words. In French music, I love the lyrics when they sing about dramatic love.
3. A Negroni with Jean-Georges
Meet my friend Jean-Georges for a great Negroni. In the first few months of the pandemic, we did Negronis remotely and had the best Negronis on FaceTime. I also love it when friends choose a Burgundy wine because I'm from Burgundy. I love choosing the best that goes with our meals.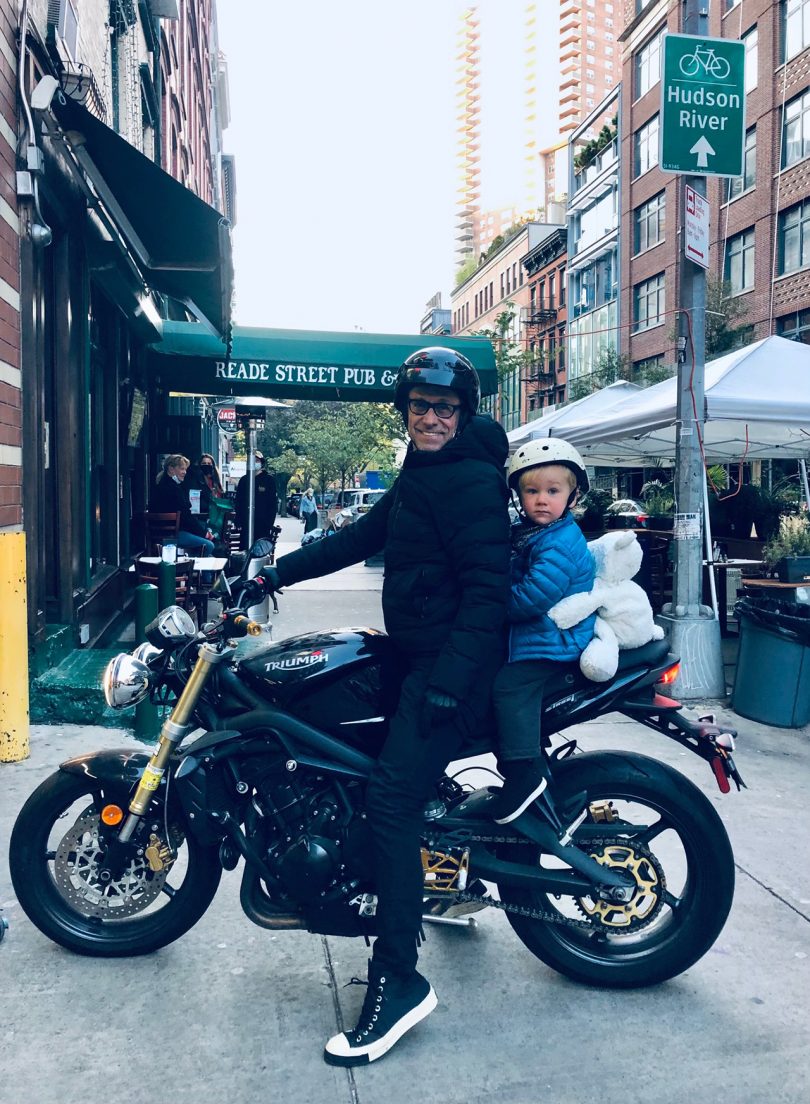 4. Manhattan motorcycle tours
Ride my motorcycle through Manhattan, especially in the East Village or Times Square. Walking down Broadway and feeling the energy emanating from the big advertising screens is a thrill.
5. Museums
Spend two hours in a single gallery viewing a work of art. I spend a lot of time walking through museums – my passion is increasingly focused on a single piece or a gallery while visiting a museum. I used to go to museums and visit the whole museum in the afternoon, but now I focus on a gallery or painting so I can really go inside. I love it when you stand in front of a painting for a long time and at some point the painting opens and reveals details visibly or suggestively. The more you stare, the more it opens, revealing an invisible or visible secret.
Lighting projects by Hervé Descottes: