The design and craft company Swedese is updating some classic designs with new materials and colors for its 2021 collection. Interior designer Tina Hellberg's furniture and home decor collection creates a cohesive series with an earthy color gamut alongside the brand's commonly used woods. The result feels harmonious and inviting, in other words, just right. "Over the past year we have done extensive work with the Swedish brand, covering everything from the way we express ourselves in words and pictures to categorizing our range, always with a future in mind and a clear connection to our roots, "said Elias Stenberg, Marketing Manager.
The Amstelle armchair designed by Khodi Feiz is suitable for both public and private environments. It is now available with white pigmented oak or cream steel legs, as well as the original oak or ash. Amstelle is available in two different upholstery designs in different colors.
The pond table designed by Monica Förster now offers the possibility to choose from different material options for the table top and legs. For example, a table top made of red stone and black legs or a table top made of light gray limestone with black legs. The table top is available in stone from Öland, limestone, granite or ash and the legs are available in black, red, gray and light gray.
Inspired by the snow-covered landscape of northern Sweden, the Avavick stool designed by Katja Pettersson is now available in untreated beech and lacquered beech wood in new colors (beige pink, amber, persimmon, afternoon sun and lemon & cream). Avavick is part of a new collection specially designed for the Swedish National Museum's restaurant.
The Savoa table designed by Sakari Hartikainen is an organically shaped highlight. It is available in oak (lacquered, oiled or pigmented white), in different heights and with different tabletop sizes.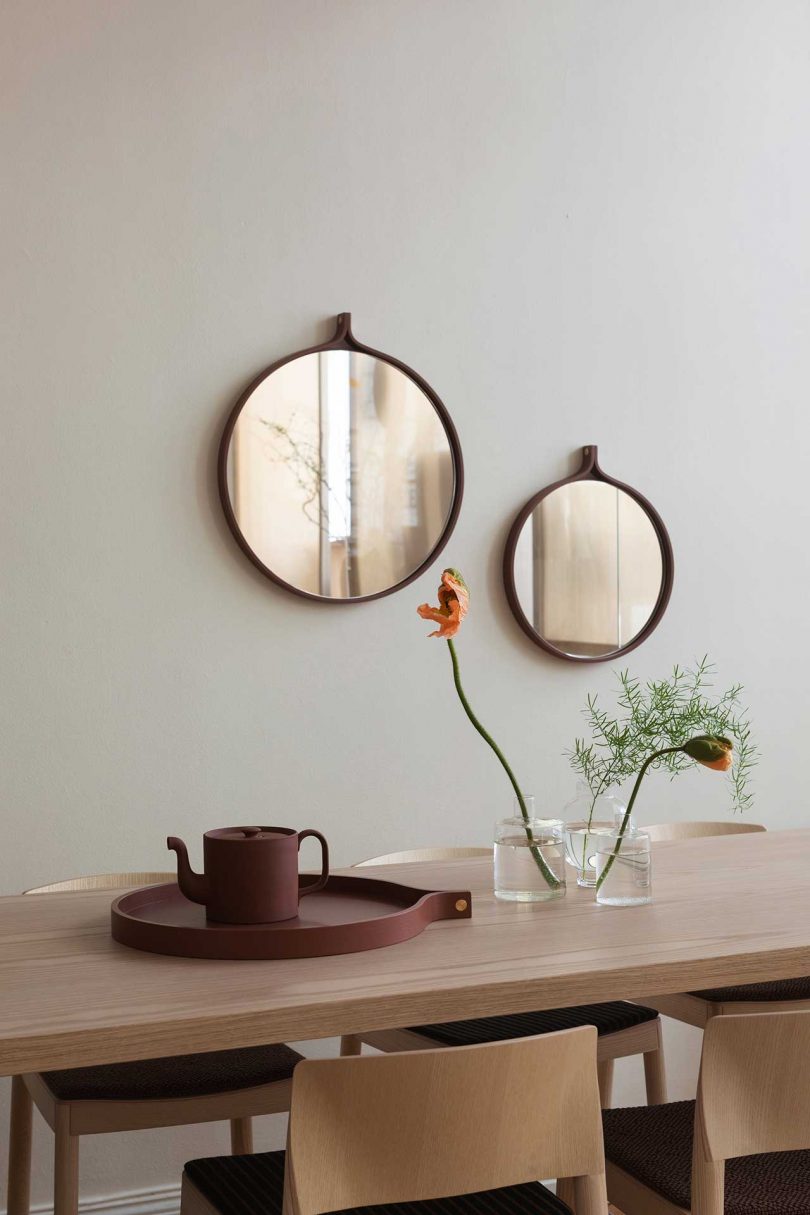 The comma series, made up of mirrors and trays and designed by Mia Lagerman, contains parts that resemble the comma itself. The expressive mirrors and trays are made of bentwood, a material preferred by the Swedes. They are now available in black stained ash or ash and lacquered ash in English red and beige / pink.
Laminett is a smaller, more compact version of the Lamino chair designed by Yngve Ekström in the 1950s. Now you can find it in oiled walnut wood, as well as in a fabric called espresso.
Originally designed by Matti Klenell for the restaurant in the new National Museum in Stockholm, the Pile lamp was inspired by Klenell's first visit to Swedese in Vaggeryd. It is now available in two flavors.
To find out more about the Swedish 2021 collection, visit swedese.com.