The recently completed ECCO office in Xi'an China designed by HONG Designworks is a beautifully executed project inspired by the rhythm and movement of nature. The modern office combines the cultures of Xi'an and Denmark in every room and integrates the shoe brand's own culture through the use of motifs and art. Let's take a tour …
In the reception area, a wavy brick wall made of leather with different colors, representing the different phases of leather production, welcomes employees and visitors. The built-in leather stones are actually gift boxes that visitors can take with them.
The waiting area is a mix of modern seating and shows a photo of the wheat field next to ECCO's Danish factory, which alludes to the brand culture and at the same time gives the room an element of nature.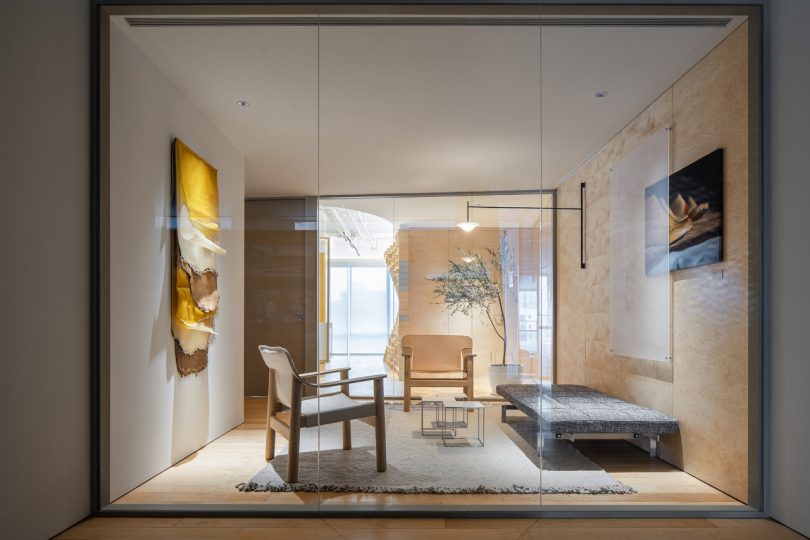 This private relaxation area is adjacent to the reception area and features a hanging leather artwork made from ECCO's leather materials, inspired by Shaanxi shadow puppets. The natural color and material palette of the room is reflected in the rest of the office.
The interpretation of blocks is a repetitive motif that creates rhythm and contrast for a visually satisfying experience.
A grid display with handcrafted decorations in homage to the shadow puppet show adorns the wall of the conference room.
A cantilevered wooden desk hangs under a semi-closed ceiling and serves as a partition for the traffic routes in this break area. Next to it is the VIP lounge area with a wonderful view of the nearby historic Yongning Gate, which was used to greet guests in ancient times. A shoe wall, a traditional shoe tool, adorns a background wall and repeats the brand's history in terms of shoe art.
HONG Designworks used colors, textures and materials to create a calm, inviting workspace that leaves the monotonous palette of traditional offices behind. Instead, the goal was to revitalize the senses through a visual experience and to convey the different cultures in this modern office.
Photography by Tan Xiao / Studio Ten.
Video from Hua Sheng Studio.