We're excited to share our first iteration of 2021 from our Design Conversations Lecture Series partnership with the Vignelli Center for Design Studies. Felipe Memoria is designer and founding partner of Work & Co, a global agency for product design and development with 400 employees in offices in the USA, South America and Europe. His talk will focus on the incredible work he and his company have done on New York's Live Subway Map.
Massimo Vignelli's work for the New York subway from the 1970s is among the best known in the history of graphic design. Fifty years later, we saw its development with the recent launch of the MTA's first live subway map. It's the first major redesign of the network in four decades. The web-based map developed the legendary New York subway maps by Unimark International and Michael Hertz Associates using Vignelli's design and Hertz's geographic and organic curves. The map moves and changes, so it is a more accurate and up-to-date representation of your trip. It was not only an impressive undertaking, but also a labor of love.
In this lecture, Felipe Memoria takes the audience into the challenges and joys of developing Massimo's legendary work for the present.
See: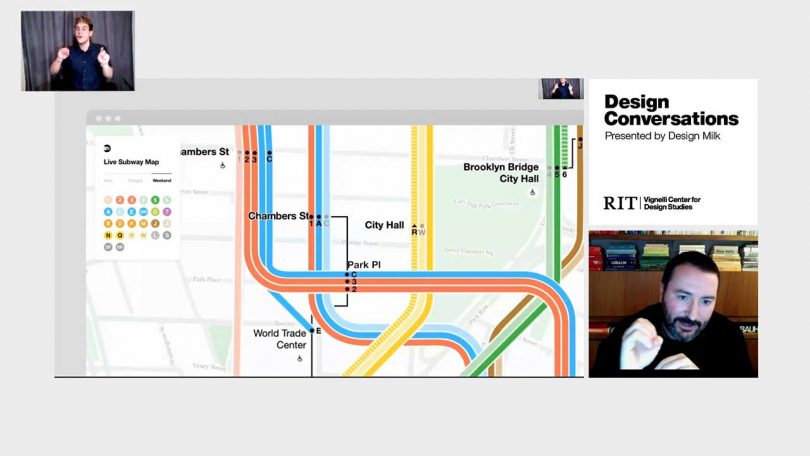 If you enjoyed this lecture, read the repetitions from last year here.
To find out more about the Vignelli Center for Design Studies at the RIT, they started digital access to the archives via Google Arts & Culture and joined over 2000 cultural institutions from all over the world. The first launch includes nearly 900 high resolution images of artifacts from the archives, so now anyone with access to the internet and Google Arts & Culture can browse the Vignelli archives, or search by color or chronological order. Very exciting!


This series of lectures is made possible in part by the generosity of RIT Alumnus, Chris Bailey, and Bailey Brand Consulting.