The mindset that the earth is the ultimate source of beauty is behind the clean skin care brand biography and their face oils. That knowledge was only reinforced when they started sourcing ingredients and discovered the many ways the words "natural" and "sustainable" can use. Mainly by overusing, overplanting or overstretching a piece of land or not caring enough for the people who do the harvest.
We know the only products you love (or need) are the ones that make a real change, a meaningful difference, a new chapter in your bio. That's how the name was born.
Biography selects the ingredients for their face oils individually with a view to purity, effectiveness and integrity. Handpicked fresh ingredients from small fair trade suppliers and their own recipes make their products like no other. What You Won't Find: Cruelty, Parabens, Fillers, Mineral Oil, Preservatives, Alcohol, or Water. All oils are vegan, naturally scented and not tested on animals.
While the inside of each bottle is amazing, the outside is good too. Most of the materials are already recycled – and can be reused or recycled – or come harmlessly from nature, right up to FSC-certified paper and vegan soy-based ink. A special coating protects the active ingredients in each formula from being degraded by UV rays. And a protective cotton bag is lined so that it is leak-proof and can still be used as a travel bag or jewelry bag.
Not only do our products treat you well, they are designed to be seen, held, and lasted. Making them beautiful is our way of honoring the content.
Beyond Biography's formulas and inner packaging is their extraordinary outer packaging. Art Deco-inspired fonts, modern graphics, and vibrant colors share the brand's power, intrigue, and whimsy. The identity was created by New York based artist Adrianne De Loia, who reinterpreted how natural products can be viewed as intelligent and desirable.
Long June Face Oil is ready to soothe even the most sensitive or oily skin by removing redness (including rosacea) and inflammation with its deeply moisturizing drying oil. Soothing and calming, apricot kernel oil, camellia kernel oil and chamomile oil are the superstars in this bottle. These drops are light and non-greasy, so they work wonderfully under make-up.
Golden Ray Face Oil works for all skin types, including combination skin, to strengthen collagen, improve elasticity, give suppleness and smudge fine lines with its moisture. French seaweed, carrot seed oil and fruit seed complex are combined in this formula to create a radiant, sun-drenched glow with a clean, bright and floral fragrance.
Petty Grudges Face Oil uses restorative rose ingredients to rejuvenate dry and damaged skin, improve elasticity, soften fine lines and wrinkles, reduce dark circles, and repair sun damage. This formula is best for normal to very dry skin. Rose hip seed oil, evening primrose oil and rose geranium leaf oil work their magic and leave behind a green, lemony, earthy scent.
Few Words Shave Oil protects skin and hair and prevents bumps, razor burn and irritation wherever you shave. Soothing and nourishing ingredients moisturize itchy, firm skin and prevent ingrown hairs and nicks. This oil even promotes beard growth when you grow one. With a woody, tangy lemongrass scent and hardworking radish seed oil, borage seed oil, and pumpkin seed oil, this formula is one that you want to have around you.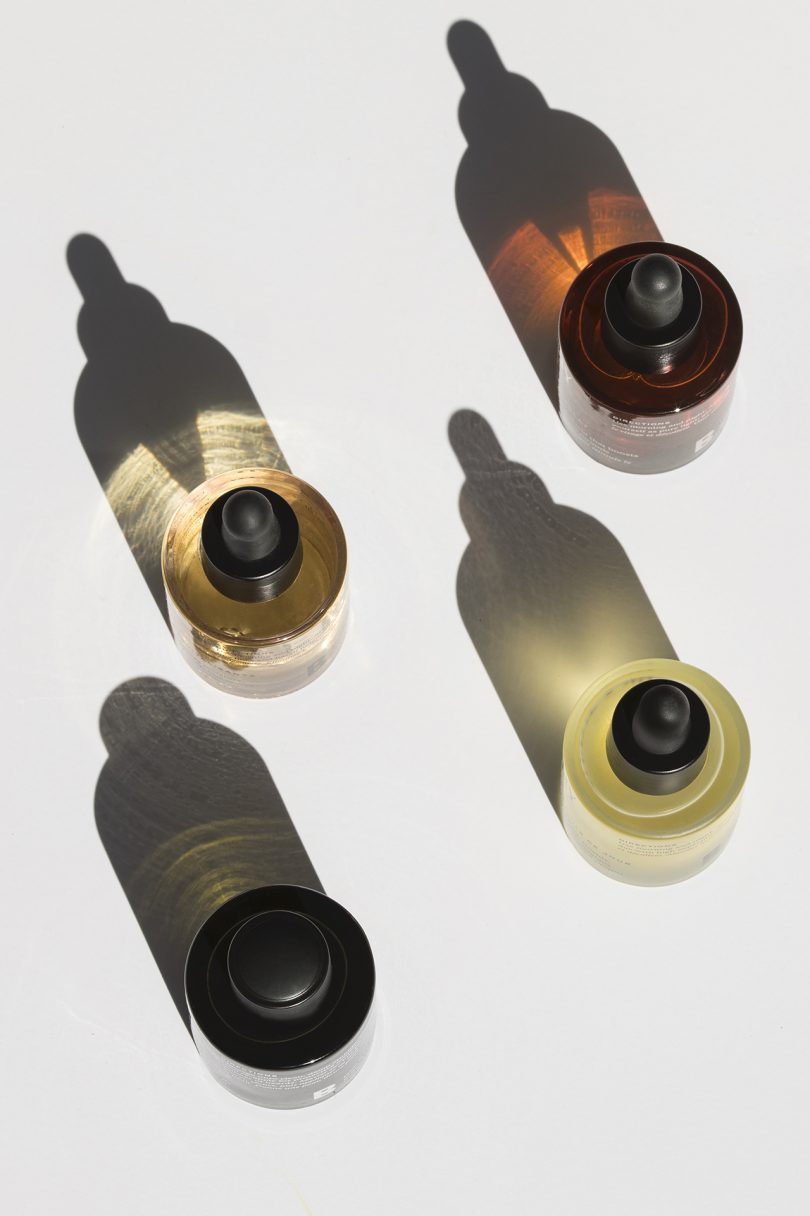 >>> Buy the face oils from Biography in the Design Milk Shop! <