In the third grade, an architect visited Melanie Turner's school and asked students to draw a plan of their houses. At that moment, coupled with art classes since she was six and drawing lessons in high school, her interest in design began to grow. Melanie grew up in upstate New York, Tokyo and the Bronx and was exposed to the differences in the human condition. These experiences shaped her conviction that the chance for good design lies where people meet the built environment. Melanie currently works at Perkins & Will in San Francisco.
In her spare time Melanie likes to visit art galleries, perfect her billiards skills and is always on the lookout for the food that can give her the biggest "food hug". Her family includes her husband, Rich, and their young son, Arlo.
Today Melanie is for Friday Five!
1. Japanese architecture
My first encounter with a building was my grandparents' house in Japan. I don't exactly remember the layout, but I do remember sliding open the Shoji screens and feeling like I was floating between the floor and ceiling – part of the surrounding rice fields and country lanes. I remember the closets being perfectly sized so that the futons could be put away every morning (and so a four year old could hide out for a nap). With more adult eyes, I see the rainwater draining down from the temple roofs, rain chains, and narrow stone ditches that wrap around the structure, and how the wooden pillars are protected from the ground and from moisture by carved stone pedestals. The rainy season in Japan is no joke, and the architecture reflects the importance this time of year has in terms of both culture and building science. I love the adventurous feel of contemporary Japanese architects for all types of buildings. I could go on like this forever, but suffice it to say that it all inspires me in my work every day.
2. My blue cup
My current obsession is a blue mug that was given to us by a local ceramist, Etsuko Bram, who made a set of ramen bowls a few years ago that my mother commissioned as a Christmas present. The shape is perfect – a little wider at the bottom so that it feels stable when you put it down, rounded where my lips touch, a sufficiently large grip so that the back of the fingers do not touch the hot cup and a comfortable grip that feels substantial in your hand . The glaze is a perfect shade of blue – like worn jeans or Shibori-dyed indigo – over a dark clay background. As I write this, I realize that I might like this mug a little irrational, but well, I enjoy it.
3. Art from close friends + complete strangers
I will always be impressed and inspired by the courage that artists need to create and then show their work. It is so brave to reveal yourself and then share it with complete strangers and ask them to look at it through their own lens. My husband is a painter and many of our friends are artists and / or gallery owners. Our limited wall space is filled with works by friends and strangers (and now our four year old) and it reminds me every day that we are all trying to describe our human experience and share that connection with others in whatever way we do be able.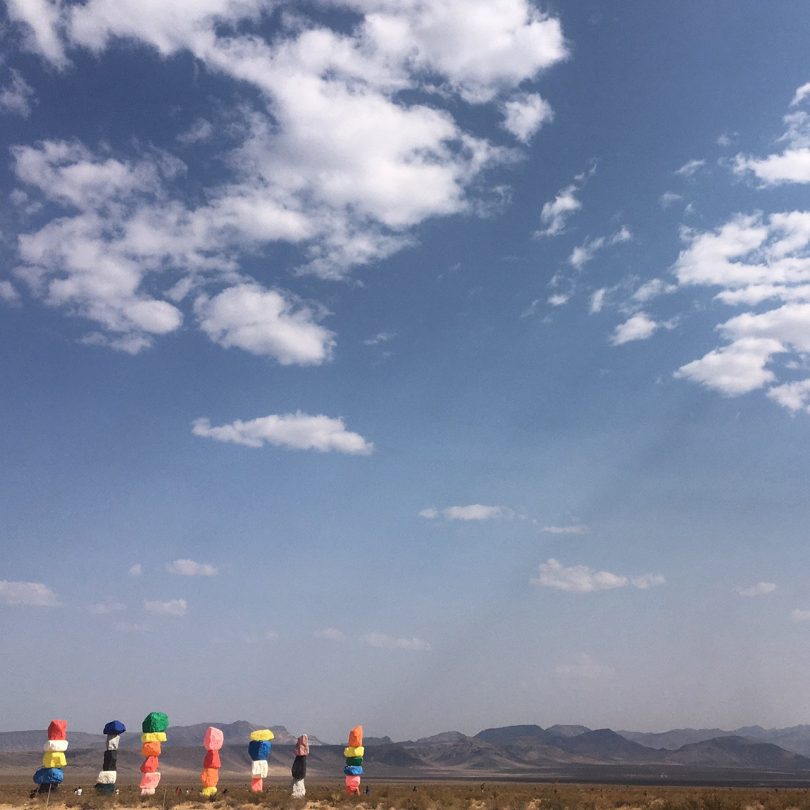 4. Road trips
I love traveling in all forms (confession: I even like plane food!), But we just got back from a trip to the desert and I was reminded of how much I enjoy road trips in particular. There is a sense of freedom and spontaneity when you don't have to catch planes or trains, and such an exciting sense of potential when you can turn into any back road or street attraction that catches your eye. Our last trip took us through LA, Vegas, the Mojave National Preserve and Barstow. We swam in Lake Mead at 106 degrees, saw the Milky Way and watched the sunrise in the desert. And it was all magical. Together with my four year old, this trip reminded me to enjoy the moment that I honestly needed to be reminded of.
5. Hardware stores in other countries
When I travel, I like to visit local hardware stores. Not only are they the perfect place to shop for inexpensive gifts, but they also provide a glimpse into the way people live – what they use in the kitchen and bathroom, seasonal items that are only available for a short time, etc. – The design of the utility is beautiful and rarely available outside of this area. We always try to take a small piece of our travels with us and incorporate it into our lives at home. To use or do something every day that brings us back to a different place.
The fire bucket is something we noticed outside every house in my mother's town. Because of the tradition of wood construction and wood and paper finishing materials (and a history of fires), these buckets are everywhere and for anyone who can put out a spark if they notice. They were so ubiquitous that when asked, most people were a) shocked that we asked and b) had no idea where they were from. We took one home with us, of course.
On our first day in Brazil, I saw these children's chairs hanging in a window, and on our last day, I couldn't leave them behind. It turns out they were made by a local woman in the 50s and 60s. We brought five home. Yeah right, five.
Works by Melanie Turner: