Editora Record, one of the oldest and most famous publishers in Brazil, recently got a modern office makeover from. receive STUDIO DLUX. The project started at the end of 2019 and only had the creative assignment to modernize the space. As time went on, the briefing adopted a more strategic tactic, suggesting redesigning the division of work between editorial and marketing teams. The result is the separation of the two groups into two different, color-coded floors with more fluid floor plans to allow for better collaboration and privacy when needed.
The old office had outdated floor plans, furniture, and aesthetics that were spoiled by the fluorescent lighting. The publishers were spatially separated by different book groups, all on one floor. STUDIO DLUX decided to renovate and restructure two floors of the building in order to separate the different corporate divisions. The third floor, with its shades of blue, would be used by the editorial team. Workplaces distributed in the middle of the floor allow for better collaboration, while the private rooms on the edges of the floor allow for more strategic meetings.
The fourth floor was dedicated to the marketing team and has a more open floor plan and meeting rooms for marketing activities. The orange and turquoise color scheme was chosen by the team to make the room lighter and brighter.
BEFORE: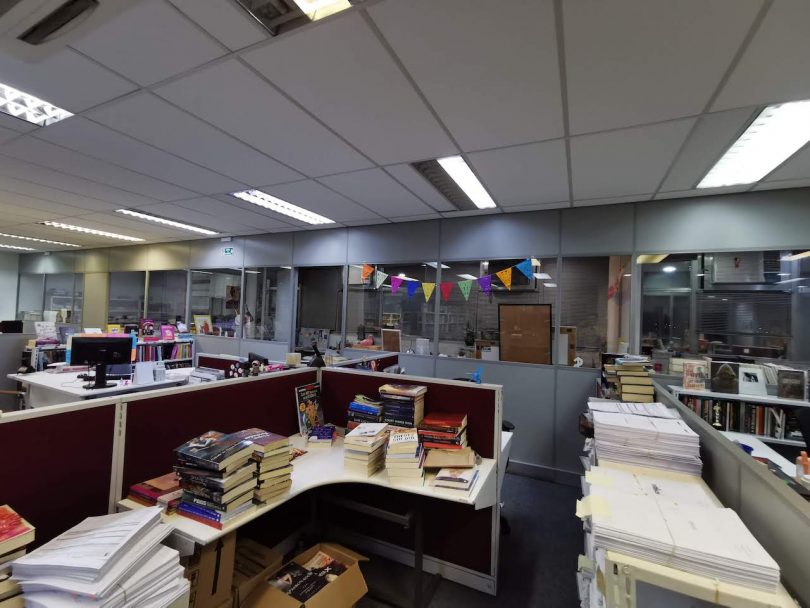 Photos by Dhani Borges.