Nestled in a secluded rocky cove on Serifos Island is an unexpected place – a modern, cavernous house. In strong north winds, sheltered shelter was required, which caused the mold architects to build the house into the sloping land instead of lying on it. nCAVED was designed as a rectangular grid on the slope to create a three-dimensional "chessboard" of solids and cavities, which became indoor and cut-out outdoor spaces.
One side of the house can be pivoted outwards to give the living area a better view of the Aegean Sea.
Stone was used to create the long linear walls of nCAVED that also draw the eye inward to the sight.
While the longitudinal walls are solid and sturdy, the transverse facades are much lighter because they are made of glass.
The front of the house is open to reveal the ocean below, while the windows on the opposite side open to interior gardens that increase airflow and natural light into the interior.
An open floating staircase connects two of the floors, while a built-in staircase connects all three floors outside.
The bedrooms have sliding glass doors that frame the view from the bed.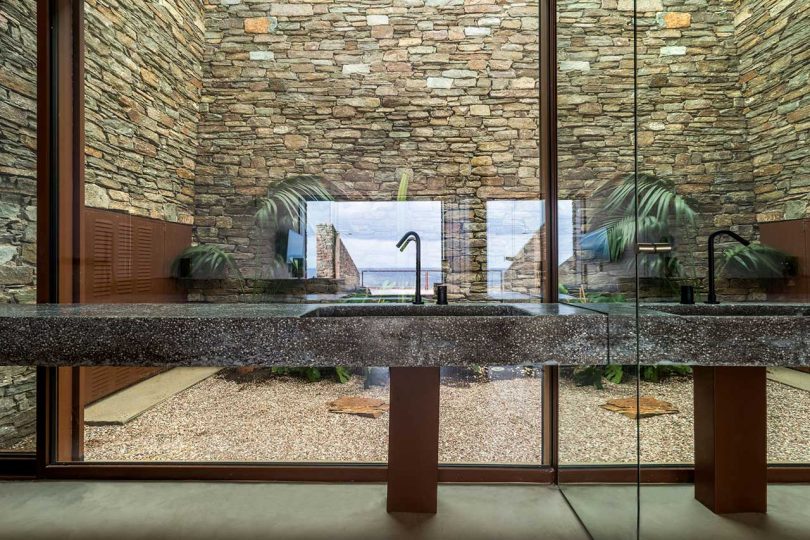 The inner gardens function as light sources through which natural light falls into the more embedded rooms.
Construction began in 2018 and was completed in 2020. Mold Architects captured everything in this time-lapse video:
Photos by Yiorgis Yerolymbos and Panagiotis Voumvakis.
Video by Panagiotis Voumvakis.