Wall clocks have the ability to make a functional statement as a wall art or art object, whether or not you have batteries in them (guilty!). And while in the summer it might be the last thing you feel like keeping an eye on the hour and minute, sometimes it's a must – so it can look just as good. Here are eight favorites from ours Watch collection that will ease the pain that it is already July, if only a little.
Banker wall clock from Arne Jacobsen Watches & Clocks
The Banker's Wall Clock, a personal favorite, was originally designed for the National Bank of Denmark in 1971. It features a concave dial, a double convex mineral glass lens, and comes in three sizes – 8.3 inches, 11.4 inches, and 18.9 inches in diameter.
Factory Ocher Yellow Station Large clock from cloudnola
Where tradition meets modernity, this bold wall clock with a yellow rim is a high-quality design that is at home in almost every room. A statement on its own or in combination with other adorable wall hangings, you will love it with its 17.7 inch diameter.
RESET clock made of blackened oak by MARdiROS
A minimalist design with natural beauty and a very clever touch. With every minute the outer edge drops slightly and every hour on the hour it is reset to do everything all over again.
Analog aluminum clock digital clock from Gingko
Inspired by a traditional watch face but updated with digital technology, it's an art piece that will stand out from the crowd. Set it on a surface or peg it to a wall, then keep an eye on the second point, which circles the face and seems to dance like magic.
Riki steel clock from Lemnos
For those who prefer a more graphic statement, the bold numbers and needles on this watch should be spot on. Accented by a subtle, matt steel frame, you know what time it is from anywhere in the room.
TIAN multicolor wall clock from Tian Watches
This is a limited series wall clock that is 100% made and hand assembled in Bermoll, Germany. Only 25 pieces will be available and each watch will be marked with a limited edition label. Read the story behind it here!
Delta clock made of oak by Lawa Design
Inspired by the sundial, this clock uses shadow play to show the time. "Wrinkles" on the surface indicate the hours that pass each untreated oak wood panel.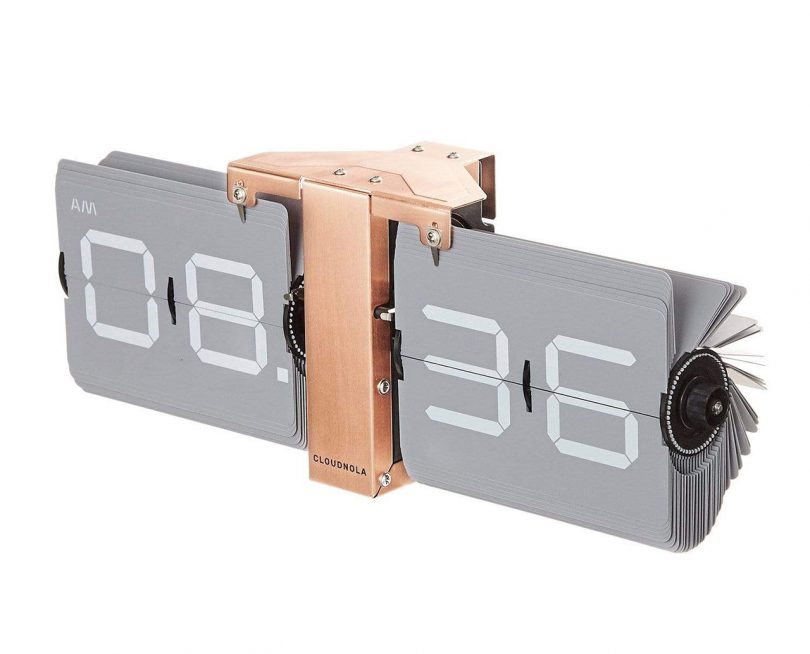 Flipping Out gray flip clock from cloudnola
Fun, clever, and stylish, this open watch keeps track of the hours and minutes of your day as it flips through its number coils. Hang it on a wall or lay it on a surface.
>>> Take a look at our watch collection in the Design Milk Shop! <