Are the temps running on the sun hot where you are or are you still trying to keep yourself and your family entertained this summer? Whatever the reason, indoor activities are always needed, especially in the form of Puzzles. To keep your summer fun and keep your family busy, check out these new modern puzzles that just landed on the Design Milk Shop!
>>> How I Will Spend the Summer Puzzle by Maggie Stephenson for Ordinary Habit
With a color palette that screams summer, this jigsaw puzzle features Maggie Stephenson's artwork with palm trees, umbrellas, succulents and fruits that you wish you were there. The 1000-piece puzzle has a soft, glare-free coating that makes it easier to see each piece.
>>> Working from home from Here & Now Puzzle Company
This themed jigsaw puzzle is the brand's first jigsaw puzzle featuring artwork depicting true stories from around the world about life at home, featuring artwork by Berlin illustrator Kati Szilagyi. The 500-piece puzzle is printed with non-toxic water-based inks and has a matte finish that is easy on the eyes.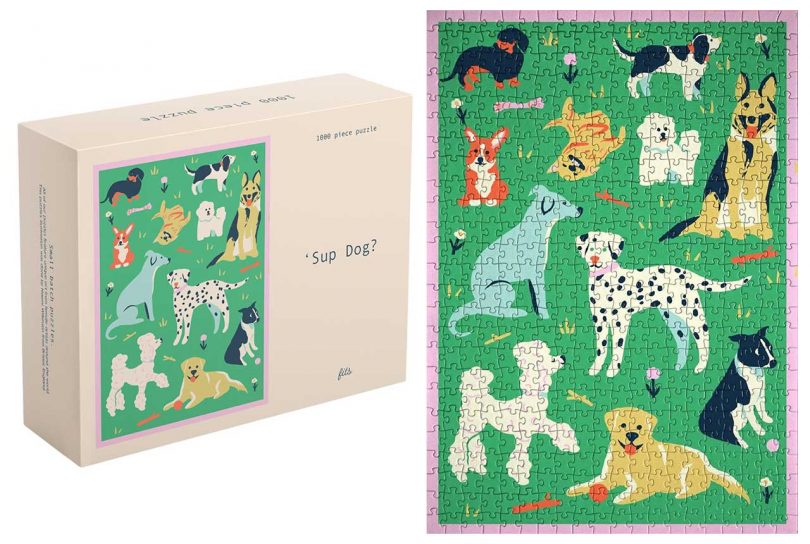 >>> "Sup-Dog? Puzzle of Fits Puzzles
Whether you are a dog lover or just a lover of adorable illustration, this playful 1000 piece jigsaw puzzle is adorned with Naomi Wilkinson's artwork.
>>> Tattoo Girl Puzzle from Inner Piece Puzzles
This 500-piece jigsaw puzzle features a series of fun line tattoos covering a torso based on an artwork by Aniek Bartels. It comes with a reusable pouch to keep the parts safe when not in use, and is printed on recycled paper with a matte coating.
>>> Interior with Yellow Chair Puzzle from Goodfit Puzzles
A colorful scene by Mary Finlayson with a happy atmosphere that is meant to give everyone a pick-me-up. The 1000-piece puzzle includes illustrations of plants and flowers, modern furniture and art, and a cool patterned floor.
>>> More puzzles that will keep you and your family entertained all summer and beyond can be found here in the Design Milk Shop! <