The rampant housing crisis in Los Angeles is complicated, but some of the biggest issues are sky-high rents and house prices on top of the low inventory levels available. Thanks to the city's regulation on small buildings, single-family houses can be replaced by smaller, cheaper multi-family houses, which help to increase the density of the neighborhoods and at the same time correspond to the size and character of the surrounding apartments. One such project is Canyon houses, a boutique community of five residences located west of Los Feliz at the base of the Hollywood Hills. The mini quarter was designed by Lorcan O'Herlihy Architects (LOHA) with breathtaking interiors by DISC interiors, in collaboration with Platform home page and Lawson-Fenning.
Each of the five two-bedroom houses have curved metal facades, two-story glass walls at the front, private roof decks, and attached garages.
In addition to the glass fronts, another unique selling point for every home: curved walls that do not result in 90-degree angles.
White wooden beams cover both the exterior walls and the ceilings, making the curved walls stand out even more in the design.
The windows and white surfaces keep the rooms clean and bright, while the sustainable white oak flooring adds texture and warmth.
There are two floor plans available with the garage and the utilities on the ground floor, the two bedrooms on the first floor, the open living room on the 2nd floor and then the roof terrace.
DISC Interiors impressed with its striking aesthetic, which effortlessly combines Californian vibes with a sophisticated modern style. Natural materials, warm textures and rich color palettes round off the rooms without impairing the optical effect of the unusual architecture, but rather enhancing it.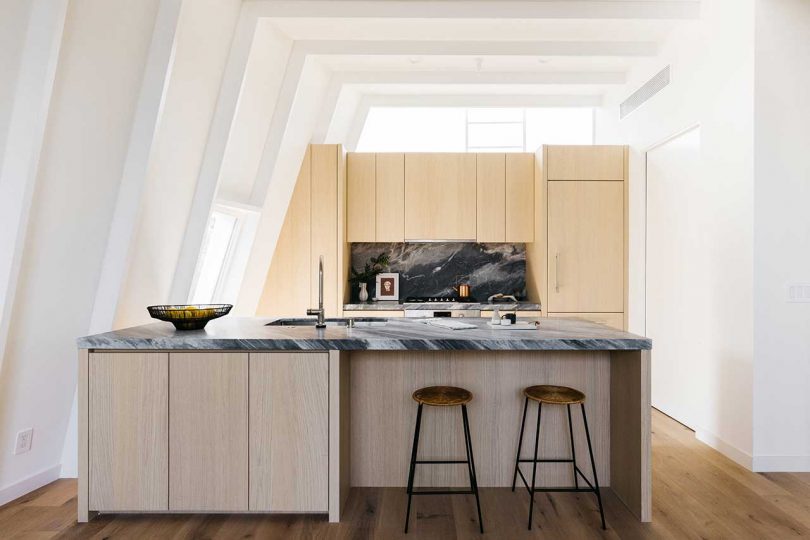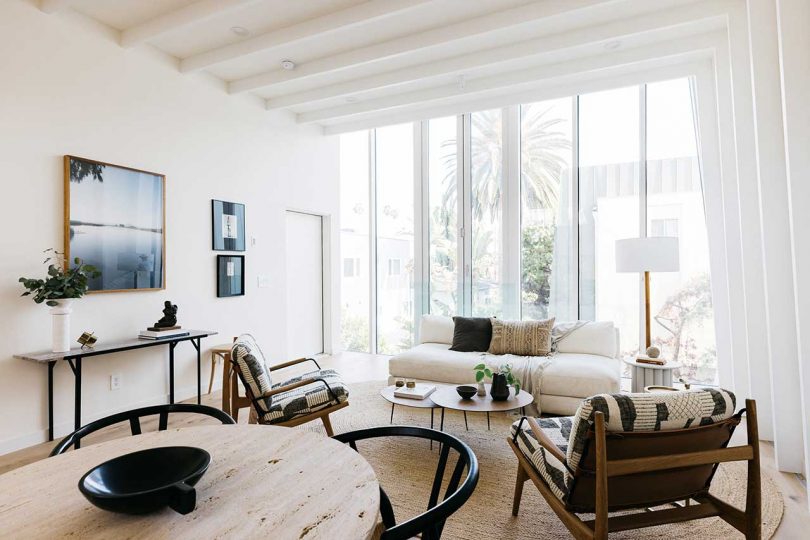 The Canyon Homes are currently for sale – visit canyon5homes.com for more information.
Photos by Alex Zarour, Virtually Here Studios.